About Us
Autobahn Motors Mercedes Service Center
Autobahn Motors was founded in 1999 by Kenneth McCoy, an 18 year veteran Mercedes-Benz mechanic. Ken started out working on classic Mercedes-Benz restorations in Navasota, Texas in 1981. After several years restoring vintage cars Ken moved on to working at Mercedes-Benz dealerships in both Texas and then Kentucky to further his level of expertise. In 1997, Kenneth McCoy was listed as one of the Top 200 Mercedes-Benz Technicians in the USA. Backed by his many, many happy customers, Ken opened his own repair shop dedicated to the world's finest automobiles, the Mercedes-Benz.
As to our staff, the technicians in our company are BOSCH trained technicians with many years of experience and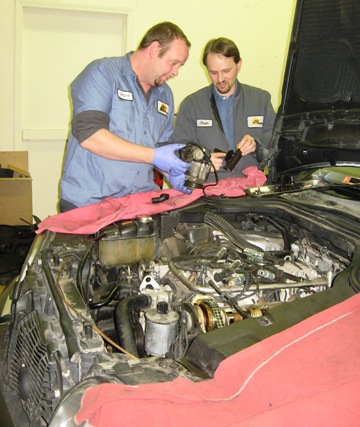 expertise. We are also proud to be a BOSCH Authorized Service Center. This appointment has been awarded to less than 800 professional service and repair facilities throughout the United States, and less than 2200 worldwide. This privilege also provides us with unique and intensive training not otherwise attainable. Another added benefit is our ability to honor some new car, and extended warranties; especially those of Bosch parts. In turn, the Bosch parts we install will carry the benefit of a warranty that can be honored around the country.

We possess the factory scan tools, electronic testers, repair materials and databases to properly handle the Mercedes-Benz vehicles that we specialize in.
Autobahn Motors is proud to be a part of the Bosch Service Network, a collection of the top independent repair centers, servicing gasoline, diesel and hybrid-driven vehicles. Bosch Service centers receive quality parts, diagnostic and wheel service equipment and training from Bosch, the largest original-equipment parts manufacturer in the world.

All Bosch Service centers must pass a rigorous evaluation to be accepted to the program, and are frequently inspected to make sure the high Bosch standards are being maintained. This ensures that you will receive reliable maintenance and repair, with exemplary customer service, whenever you visit a Bosch Service center.

At Autobahn Motors, our goal is to keep your vehicle on the road for many years of driving enjoyment.