Service
Autobahn Motors Mercedes Service & Repair Center
What We Do: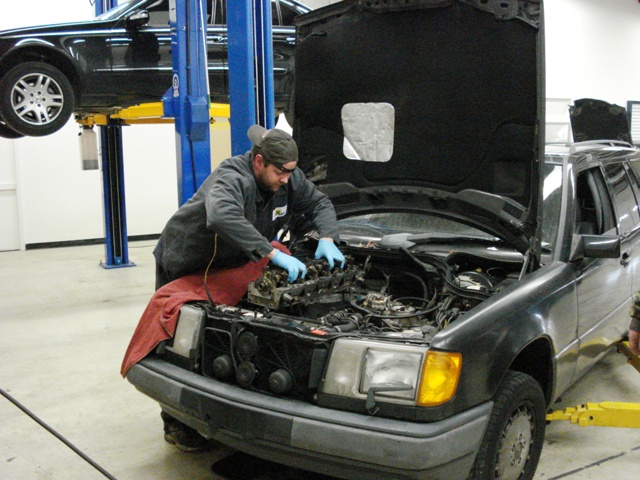 Autobahn Motors is proud to offer factory level service and maintenance at a fraction of the cost offered by most dealerships. Our technicians have years of experience specializing in new and classic Mercedes-Benz automobiles. We have a great team of knowledgeable professionals to not only keep your vehicle well maintained, but also ensure you understand all repairs and feel comfortable while you are here.

We are a dealership alternative that provides better customer service, excellent repairs and saves you money. We can complete all the scheduled maintenance to keep your car in top condition with your warranty in effect. We also offer many performance enhancement packages and are an authorized Bosch Auto Service Center.

Our List of Bosch Authorized Services include:
● Gasoline Fuel Injection Repair & Maintenance
● Engine Management Systems Repair
● Anti-Lock Braking Systems Repair
● Traction Control
● Stability Control
● Ignition Systems
● Starting/Charging Systems
● Electrical/Electronics Systems Diagnostics & Repair

We are truly a one-stop shop for all your
Mercedes-Benz automotive service needs!

Autobahn Motors specializes in:
* Highest level of customer service. Autobahn Motors has an 11 year track record of service in Louisville, KY.
* Routine maintenance, oil change & fluids service, only using products that are on your car manufacturers approval list.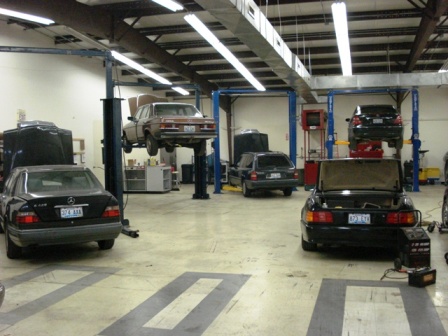 We will also stamp your cars maintenance booklet thus increasing the re-sale value of your vehicle.
* Electrical system troubleshooting & repair, including
all work related to Mercedes-Benz airbag and SRS systems.
* Engine and transmission management systems for all Mercedes-Benz.
* Mercedes-Benz climate control/HVAC,
* Mercedes-Benz chassis/body controls
* ABS Brakes, traction control and safety systems
* Mercedes-Benz TPMS (Tire pressure monitoring systems)
Call for an appointment: (502) 473-7858

At Autobahn Motors our repair shop can help you any of the following Mercedes-Benz makes and models

From the 1980's
Mercedes Benz 190 1982 1983 1984 1985 1986 1987 1988 1989 1990 1991 1992 1993
Mercedes Benz 300D 1977 1978 1979 1980 1981 1982 1983 1984 1985
Mercedes Benz 300CD 1978 1979 1980 1981 1982 1983 1984 1985
Mercedes Benz 300SD 1981 1982 1983 1984 1985
Mercedes Benz 300SDL 1986 1987
Mercedes Benz 300TD 1978 1979 1980 1981 1982 1983 1984 1985
Mercedes Benz 350SDL 1990 1991
Mercedes Benz 500SE 1984 1985 1986 1987 1988 1989 1990 1991
Mercedes Benz 500SEC 1984 1085 1986 1987 1988 1989 1990 1991
Mercedes Benz 500SEL 1984 1085 1986 1987 1988 1989 1990 1991
Mercedes Benz 560SEL 1986 1987 1988 1989 1990 1991
Mercedes Benz 560SEC 1986 1987 1988 1989 1990 1991
Mercedes Benz 300E 1986 1987 1988 1989 1990 1991 1992 1993
Mercedes Benz 300CE 1986 1987 1988 1989 1990 1991 1992 1993

From the 1990's
Mercedes Benz A Class 1997
Mercedes Benz C Class 1993
Mercedes Benz CLK Class 1998
Mercedes Benz E Class 1995
Mercedes Benz SL Class 1989 1990 1991 1992 1993 1994 1995 1996 1997 1998 1999 2000 2001
Mercedes Benz Vaneo 1997 1998 1999 2000 2001 2002 2003 2004


From the 2000's
Mercedes Benz A Class W168 2000 2001 2002 2003 2004, W169 2004
Mercedes Benz B Class 2005
Mercedes Benz C Class W203 2000 2001 2002 2003 2004 2005 2006 2007, W204 2007
Mercedes Benz CL Class W215 2000 2001 2002 2003 2004 2005 2006, W216 2007
Mercedes Benz CLK Class 2000
Mercedes Benz CLS Class 2004
Mercedes Benz E Class W210 1995 1996 1997 1998 1999 2000 2001 2002, W211 2003 2004 2005 2006 2007 2008 2009, W212 2009
Mercedes Benz G Class 2000
Mercedes Benz GL Class X164 2007,
Mercedes Benz M Class W163 1998 1999 2000 2001 2002 2003 2004 2005, W164 2006
Mercedes Benz R Class 2006
Mercedes Benz S Class W220 1999 2000 2001 2002 2003 2004 2005, W221 2006
Mercedes Benz SLK Class R170 1998 1999 2000 2001 2002 2003 2004, R171 2005
Mercedes Benz SL Class 2001 R230
Mercedes Benz SLR McLaren 2003 2004 2005 2006 2007 2008 2009, 722 Edition 2006 2007 2008 2009
Mercedes Benz SLS AMG 2010

Anything older, give us a call at (502) 473-7858

Need Parts? Mercedes Benz Auto Parts List

4WD Actuator
4WD Switch
A/C Blower Control Unit
A/C Compressor
A/C Condenser
A/C Condenser Fan Assembly
A/C Control Unit
A/C Evaporator
A/C Heater Control
A/C Hose
A/T Fluid
ABS Accumulator
ABS Control Unit
ABS Pressure Monitor Switch
ABS Pump
ABS Repair Kit
ABS Speed Sensor
ACC Mono Valve
Accelerator Pedal Sensor
Accessory Belt Idler Pulley
Accessory Belt Tension Damper
Accessory Belt Tension Pulley
Accessory Belt Tensioner
Accessory Belt Tensioner Assembly
Accessory Shaft Coupling Kit
Accumulator
Air Bag Clockspring
Air Duct Motor
Air Filter
Air Filter Housing
Air Fuel Ratio Sensor
Air Inject Check Valve
Air Intake Hose
Air Mass Meter
Air Mass Meter Boot
Air Mass Meter Hose
Air Mass Sensor
Air Pump
Air Pump Control Valve
Air Pump Rubber Mount
Air Spring
Alignment Camber Kit
Alternator
Alternator Pulley
Altitude Sensor
Ambient Temp Sensor
Antenna
Antenna - Power
Antenna Mast
Antenna Seal
Arm Rest Repair Kit
Auto Trans Mount
Automatic Transmission Dipstick
Automatic Transmission Filter Kit
Automatic Transmission Front Pump
Automatic Transmission Oil Cooler
Automatic Transmission Selector Cable
Automatic Transmission Solenoid
Automatic Transmission Speed Sensor
Auxiliary Air Valve
Auxiliary Cooling Fan
Auxiliary Fan Assembly
Auxiliary Fan Control Unit
Auxiliary Water Pump
Axle Assembly
Axle Bearing Carrier
Axle Shaft
Back Up Light
Back Up Light Assembly
Back Up Light Lens
Ball Joint
Ball Joint Kit
Bed Side Rail Protector
Bimetallic Valve
Block Heater Kit
Blower Control Switch
Blower Motor
Blower Motor Resistor
Blower Regulator
Body Lift Kit
Body Lowering Kit
Boost Pressure Sensor
Booster Vacuum Hose
Brake Accumulator
Brake Booster
Brake Caliper
Brake Caliper Carrier
Brake Master Cylinder
Brake Pad Sensor
Brake Pad Set
Brake Proportioning Valve
Brake Rotor
Brake Rotor Set
Breather Hose
Bug Shield
Bulb Socket
Bumper
Bumper Absorber
Bumper Bracket
Bumper Cover
Bumper Cover Front Extension
Bumper Cover Retainer
Bumper Cover Support
Bumper End
Bumper Face Bar
Bumper Guard
Bumper Impact Bar
Bumper Insert
Bumper Moulding Insert
Bumper Reinforcement
Cab Protector and Headache Rack
Cabin Air Filter
Cabin Air Filter Set
Caliper Piston
Cam Adjust Solenoid
Cam Follower
Camshaft
Camshaft Bearing Set
Camshaft Gear
Camshaft Position Sensor
Car Bra
Carbon Canister
Carburetor
Carburetor Kit
Carburetor Mount Flange
Cargo Liner
Catalytic Converter
CD ROM Repair Manual
Center Cap
Chain Tensioner Update Kit
Climate Control Button Set
Climate Control Module
Climate Control Unit
Clutch Cable
Clutch Disc
Clutch Flywheel Conversion Kit
Clutch Hose
Clutch Kit
Clutch Master Cylinder
Clutch Slave Cylinder
Coil Spring
Coil Spring Set
Cold Air Intake
Cold Start Valve
Combination Switch
Computer Chip Programmer
Control Arm
Control Arm Bushing
Control Arm Bushing Kit
Control Arm Repair Kit
Control Arm Strut
Control Arm Support Bracket
Convertible Top Cover Shock
Convertible Top Strut
Coolant Antifreeze
Cooling Fan Hub
Cooling Hose Flange
Cornering Light
Crank Position Sensor
Crankcase Vent Valve
Crankshaft Pulley
Cruise Control Switch
Cup Holder
CV Boot Kit
CV Joint
CV Joint Kit
Damper Plate
Diesel Fuel Injector Pump
Diesel Fuel Thermostat
Diesel Injector
Diesel Injector Driver Module
Diesel Injector Nozzle
Diesel Vacuum Pump
Differential Ring and Pinion
Dimmer Switch
Direct Ignition Coil
Disc Brake Hub
Distributor Cap
Distributor Rotor
Distributor Seal
Door Check
Door Handle
Door Handle Assembly
Door Lock
Door Lock Actuator
Door Lock Assembly
Door Mirror Glass
Door Seal
Door Shell
Drive Shaft Center Support Bearing



Drive Shaft CV Joint
Drive Shaft Flex Joint
Driveshaft
Driveshaft CV Joint
Driveshaft CV Joint Kit
Driveshaft Support
Driveshaft Support Bearing
EGR Cooler
EGR Vacuum Solenoid
EGR Valve
EHA Valve
Electric Fuel Pump
Emblem
Engine Cooling Fan Pulley Bracket
Engine Gasket Set
Engine Harmonic Balancer
Engine Mount
Engine Shock Mount Kit
Engine Torque Rod
Engine Torque Rod Mount
Engine Wiring Harness
Exhaust Header Kit
Exhaust Manifold
Exhaust Manifold Gasket
Exhaust Manifold with Integrated Catalytic Converter
Exhaust Mounting Kit
Exhaust Pipe
Exhaust Resonator
Exhaust System
Exhaust Valve
Expansion Tank
Fabric Door Skins
Fan Blade
Fan Clutch
Fan Clutch Bearing Bracket
Fan Clutch Pulley Assembly
Fan Shroud
Fender
Fender Flares
Floor Mat Set
Floor Mats
Floor Shift Assembly
Flywheel
Flywheel Conversion
Fog Light
Fog Light Cover
Fog Light Lens
Fuel Accumulator
Fuel Distributor
Fuel Door Hinge
Fuel Filler Neck
Fuel Filter
Fuel Filter Cap
Fuel Injection Relay
Fuel Injector
Fuel Level Sending Unit
Fuel Line
Fuel Pressure Damper
Fuel Pressure Regulator
Fuel Pump
Fuel Pump and Sender Assembly
Fuel Pump Assembly
Fuel Pump Driver Module
Fuel Pump Hanger Assembly
Fuel Pump Housing
Fuel Pump Relay
Fuel Tank
Fuel Tank Cap
Fusebox
Gear Shift Repair Kit
Generator
Glove Box Latch
Glow Plug
Glow Plug Control Module
Glow Plug Relay
Grille Assembly
Grille Insert
Grille Moulding
Grille Mounting Panel
Grille Shell
Guide Rod
Guide Rod Mount
Guide Rod Mount Kit
Hatch Seal
Hatch Strut
Hazard Flasher Switch
Head Bolt
Head Bolt Set
Head Gasket
Head Gasket Set
Header Panel
Header Pipe
Headlight Assembly
Headlight Bezel
Headlight Bulb
Headlight Door
Headlight Frame
Headlight Igniter
Headlight Lens
Headlight Motor
Headlight Mounting Panel
Headlight Relay
Headlight Retainer
Headlight Rim
Headlight Switch
Headlight Wiper Blade Set
Heat Exchanger
Heater Control Knob
Heater Core
Heater Hose
Heater Hose Set
Heater Knob
Heater Valve
Heater Valve Kit
Hood Lock Assembly
Hood Moulding
Hood Pad
Hood Release Cable
Hood Strut
Hood Vent
Horn
Hub Cap
Hub Cap Kit
HVAC Heater Blend Door
Idle Air Control Valve
Idle Control Unit
Idle Control Valve
Idler Arm
Igniter
Ignition Coil
Ignition Coil Connector Kit
Ignition Control Module
Ignition Control Unit
Ignition Distributor
Ignition Lock and Cylinder Switch
Ignition Lock Assembly
Ignition Lock Cylinder
Ignition Lock Housing
Ignition Module
Ignition Switch
Ignition Switch Actuator Pin
Impulse Sender
Inner Fender
Inner Fender Well
Inside Door Handle
Intake Boot
Intake Manifold
Intake Manifold Gasket
Intake Manifold Motor
Intake Manifold Runner Valve
Intake Plenum Gasket
Intake Valve
Intercooler
Intermediate Pipe
Knock Sensor
Leaf Spring
Leaf Spring Hanger
Leaf Spring Shackle
License Light Lens
License Plate Bracket
Liftgate Lift Support
Link Bushing
Lower Engine Cover
Lug Nut
M/T Fluid
M/T Shift Cable
Main Bearing Set
MAP Sensor
Mass Air Flow Sensor
Mirror
Mirror Glass
Mirror Switch
Mud Flaps
Muffler
Multi Rib Belt
Neutral Safety Switch
Oil Cooler
Oil Cooler Gasket Set
Oil Cooler Hose
Oil Dipstick
Oil Filter
Oil Filter Housing
Oil Filter Kit
Oil Level Sender
Oil Pan
Oil Pump
Oil Separator
Outside Door Handle
Oxygen Sensor

Paper Repair Manual
Parking Brake Cable
Parking Brake Shoe
Parking Light Assembly
Piston & Cylinder Set
Piston Ring Set
Piston Set
Power Antenna
Power Sliding Door Motor
Power Steering Cooling Line
Power Steering Fluid
Power Steering Hose Assembly
Power Steering Oil Pressure Switch
Power Steering Pressure Hose
Power Steering Pump
Power Steering Pump Cooling Fan
Power Steering Reservoir
Power Steering Return Hose
Power Steering Suction Hose
Preglow Time Relay
Pressure Plate
Primer Pump Assembly
Purge Valve
Radiator
Radiator Fan Assembly
Radiator Fan Shroud
Radiator Hose
Radiator Support
Radius Rod
Radius Rod Bushing
Reference Sensor
Relay
Rocker Arm
Rod Bearing Set
Running Boards
Seat
Seat Cover
Seat Hinge Cover
Shift Rod Coupling
Shock Absorber
Shock Mount
Shut Off Valve
Side Marker Assembly
Side Marker Lens
Skid Plate
Soft Top
Spark Plug
Spark Plug Wire
Spark Plug Wire Set
Stabilizer Bar
Starter
Steering Column Repair Kit
Steering Column Shift Mechanism
Steering Column Shift Tube
Steering Damper Kit
Steering Gearbox
Steering Rack
Steering Rack Bushing Kit
Steering Shaft
Step
Step Bumper
Step Bumper Face Bar
Strut and Coil Spring Assembly
Strut Assembly
Strut Bearing
Strut Housing
Strut Insert
Strut Mount
Strut Mounting Kit
Strut Rod Bushing
Subframe Bushing Kit
Sunroof Seal
Suspension Bellows
Suspension Compressor
Suspension Kit
Suspension Pump
Suspension Valve
Sway Bar Link
T-Belt Tension Adjuster
T-Belt Tension Assembly
Tail Light Assembly
Tail Light Bulb Holder
Tail Light Covers
Tail Light Lens
Tail Light Lens Assembly
Tailgate
Tailgate Cable
Tailgate Handle
Tailgate Hinge Kit
Tailgate Lock
Tailgate Lock Solenoid
Tailgate Moulding
Tailgate Shell
Tailgate Strut
Tailgate Window Motor
Tailgate Window Strut
Tensioner Roller
Thermo Time Switch
Thermostat
Thermostat Assembly
Thermostat Housing
Thermostat Kit
Third Brake Light
Throttle Actuator
Throttle Body
Throttle Body Spacer
Throttle Bushing
Throttle Position Sensor
Tie Rod Assembly
Tie Rod End
Timing Belt
Timing Belt Idler
Timing Belt Idler Pulley
Timing Belt Kit
Timing Belt Tensioner
Timing Chain
Timing Chain Kit
Timing Chain Tensioner
Timing Cover
Timing Cover Gasket
Timing Gear Kit
Timing Guide Rail
Tonneau Cover
Torque Rod
Towing Mirror
TPMS Sensor
Track Bar
Trailing Arm
Trailing Arm Bushing
Transfer Case Control Lever
Transfer Case Motor
Transmission Cooler
Transmission Mount
Trunk Lid Pull Down Motor
Trunk Strut
Turbocharger
Turn Signal Assembly
Turn Signal Lens
Turn Signal Light
Turn Signal Switch
U Joint
Undercar Shield
Vacuum Pump
Vacuum Supply Pump
Vacuum Valve
Valance Panel
Valve Adjust Shim Kit
Valve Cover
Valve Cover Gasket
Valve Cover Gasket Set
Valve Cover Repair Kit
Vehicle-Mounted Ladder
Washer Nozzle
Washer Pump
Washer Reservoir
Water Distribution Pipe
Water Pipe
Water Pump
Water Pump Bracket
Wheel
Wheel Bearing
Wheel Bearing Assembly
Wheel Bearing Kit
Wheel Hub
Wheel Hub Assembly
Window Motor
Window Motor / Regulator Assembly
Window Regulator
Window Regulator Kit
Window Regulator Roller
Window Switch
Window Switch Bezel
Window Switch Panel Assembly
Window Vent Visors
Windshield Wiper Arm
Windshield Wiper Motor
Winshield Frame
Wiper Blade
Wiper Blade Insert Set
Wiper Blade Set
Wiper Linkage
Wiper Pivot Assembly
Wiper Switch

Call our service center at: 502-473-7858 to check parts availability!

ALL PART SALES ARE IN-STORE ONLY!

NO INTERNET SALES AT THIS TIME!